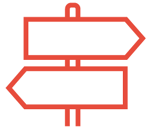 If your needing to revamp your retail premises, or update your point of sale promotions, we can help you design and implement flexible solutions.
We are passionate about retail design and believe intensely in the power of branding to drive your businesses forward.
We have been designing sign graphics for over a decade and have the talent and ability to offer you a unique retail design solution.

We work alongside many Perth sign companies who provide the production and installation service and also shopfitters who we can recommend. We select the right company based on your needs, quoted price, materials and their capabilities to produce the quality finish we are looking for.
We know as a retailer you will need to promote regularly. We can handle all your design and printing needs from replacement large format posters, window decals, flyers, catalogue through to branded paper or plastic shopping bags.
Why should I use a designer and not a sign company?
The beauty of working with a designer at the initial stages, allows us to be highly creative first, then work out the best production process for the design. We can recommend new and innovative materials, and work closely with you to make sure you're happy with the direction of the artwork during development, through to production and installation.

Competitive production quotes
By having a design concept underway, we can request production and installation quotes with clear specifications of size and materials. This gives the flexibility to select the right print company for the right project. We have preferred sign companies that we can call upon, or can work with an existing sign company you prefer to work with.
We can help with...
Office foyer graphics
Reception logo plaque or 3D illuminated lettering
Custom printed laminate flooring
One way window films
Retail graphics
Vehicle graphics
Expo merchandise for giveaways
Expo display systems
Custom market stall table cloth and banners